Good things come in small companies.
Looking beyond large caps? Global small cap stocks can play an important role in a well-diversified portfolio, because they potentially blend some of the best attributes of their smaller and larger counterparts.
We've used our robust research capabilities to identify high quality global small and mid-cap stock, distinguished by our stock-picking capabilities.
Take a look beyond large caps.
Learn how a portfolio might incorporate Fidelity Global Small Caps Opportunities Fund.
Download the Fund's feature sheet below.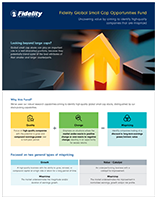 Investment strategy
Uncovering value by aiming to identify high-quality companies that are mispriced.

Focus on high-quality companies with the potential to grow and compound earnings power over a multi-year period.

Emphasis on situations where the market under-reacts to positive change or over-reacts to negative change; resulting in an opportunity for excess returns.

Identify companies trading at a discount to long-term earnings power/intrinsic value.
How to buy Fidelity Global Small Cap Opportunities Fund 
Fidelity Global Small Cap Opportunities Fund is a mutual fund offered in a number of different fee structures depending on your needs. An independent financial advisor can help you invest in Fidelity Global Small Cap Opportunities Fund. Financial advisors help to provide the discipline and investment expertise you may need to achieve your long-term goals.
If you don't have an advisor already, you can get started with our 'Working with a financial advisor' toolkit.