How to buy a house in Canada: 10 steps to buying a home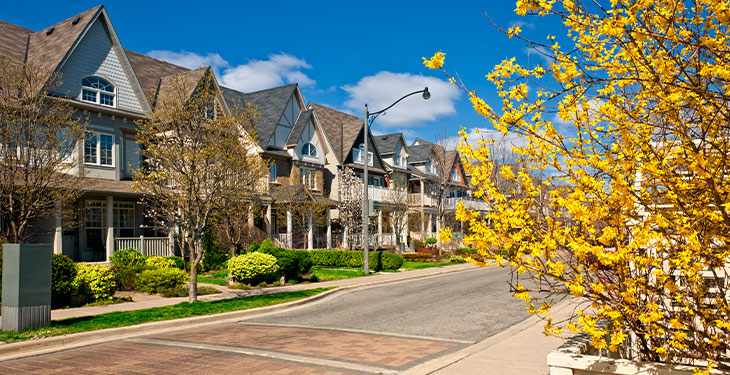 Author: Tom Drake
Source: MapleMoney
They say that buying a house and moving is one of the five biggest life stressors. And with housing prices across Canada constantly rising, it doesn't seem like things will get any easier. Thankfully, with some careful planning and help from various experts, you survive buying a house without too much trouble. This article will guide you through the process step-by-step.
Things to consider before buying a home
Before diving into the ten steps to buying a home, there are a few things you need to consider. Having a good understanding of the home buying process will ensure that you are ready to buy when the time comes.
Down payment
Long before you begin house hunting, you need to consider how much you will need up front as a down payment. In Canada, the minimum required is five percent of the purchase price for a CMHC-insured mortgage and 20 percent for a conventional (non-insured mortgage). For example, a home with a $300,000 purchase price would require a minimum down payment of $15,000. If you wanted to avoid paying the premiums that come with an insured mortgage, however, you would need to come up with $60,000, or 20 percent.
Down payment sources
While the most obvious place to accumulate a down payment is from your regular savings, here are a few other potential sources:
RRSP savings (using the Home Buyer's Plan)
Proceeds from the sale of an existing home
Work bonus
Income tax refund
A gift from a close family member, i.e., parents
Money from an inheritance
Cash windfall – wouldn't that be nice?
Mortgage closing costs
When you purchase a home, your down payment is not the only money you'll need to pay upfront. You must also account for closing costs. Closing costs are the different taxes and fees that need to be paid before your home purchase is finalized. They can include, but are not limited, to the following:
Legal fees
Land transfer tax (varies by province)
Home inspection
Home appraisal
Title insurance
If you are purchasing your first home, I recommend that you budget between 2-3% of the purchase price for closing costs, over and above your down payment.
Employment
Homebuyers often overlook their employment status when considering buying a home. But to qualify for a mortgage at any major bank or credit union, you will need to demonstrate that you have stable employment and income. It doesn't matter how strong your credit score is or how large your down payment; lenders want to know that you have enough cash flow to support the monthly mortgage payments. It is the largest loan you will ever take out, after all.
Generally speaking, you must receive employment or pension income to qualify for a mortgage. Disability income may also be considered. If you are at a new job, you'll need to wait until your probationary period has expired before you can apply for a mortgage.
Income from self-employment
If you are self-employed, you will have to show proof of income via CRA Notice of Assessments going back at least two years. For this reason, if you are thinking of transitioning out of a 9-5 job to start your own business, buy a home before you do, or plan to wait at least a couple of years until you've filed a couple of tax returns as a self-employed person.
Find the right location
One of the biggest decisions you'll have to make is where you will live. The perfect location (proximity to work, schools, shopping, or recreation facilities) can significantly enhance your lifestyle, but it usually comes at a cost. The more desirable the location, the more expensive the housing will be. You'll have to find that balance between lifestyle and what you can afford.
10 steps to buying a home
Here are the ten steps you will go through during the home buying process. If you follow them in the proper order, it can make for a much smoother home buying experience.
1. Save for a down payment
This was covered at the outset of the article, but the first thing you need to do when buying a home is saving for a down payment. It's the first step because it may take years to accumulate the necessary funds depending on where you live. Unfortunately for home buyers, Canada's housing prices have been steadily increasing for several years, especially in large urban centres like Toronto and Vancouver.
2. Choose your location
While you are saving for your down payment, you may want to start thinking about where you want to live. Is it vital that you live close to work? Do you have young children and want a good school nearby? Or perhaps you have an active social life and want to live close to all the action. It will be a combination of priorities that you will need to weigh as you make your decision in many cases. Of course, housing prices in different cities or neighbourhoods can also be a factor.
3. Gather your paperwork
Once you've accumulated a down payment and you have a general idea of where you want to buy a home, it's time to get prequalified for a mortgage. However, before booking an appointment with a mortgage broker or bank advisor, it's essential to gather the necessary documentation.
For the most part, this will include income documents, such as a recent pay stub and a year-end document, such as a T4 slip or previous year's Notice of Assessment (NOA). If you receive pension income, such as CPP or OAS, a few months' bank statements showing confirming direct deposits should suffice.
You will also need to show proof of your down payment. You may use bank account records, investment statements, a firm sale agreement on your current home, or a gift letter for this purpose.
4. Get pre-approved for a mortgage
These days, you need to have a mortgage pre-approval in hand before a real estate agent will agree to represent you. The good news is, getting a pre-approval is pretty straightforward. You will need to meet with a mortgage advisor at a bank or a mortgage broker. The mortgage lender will guide you through the mortgage process – they'll check your credit report and income documentation and let you know how much mortgage you can afford. Another benefit of getting pre-approved is that you can secure a mortgage rate for up to 120 days. You'll have peace of mind knowing that your rate is locked in as you shop for a home.
5. Find a realtor
With your mortgage rate booked and your pre-approval in hand, it's time to choose the realtor who will help you with your home search. It's recommended that you interview a few realtors to find out how they work with their clients and make sure they are a good fit. It doesn't hurt to ask for realtor recommendations from people you trust. Everyone seems to have a realtor that they found success with in the past.
6. Begin house hunting
A good realtor will help guide you through the process of finding a house that checks most of the boxes and is within your budget. Be prepared to visit several homes before placing an offer. Real estate agents understand the local housing market perhaps more than anyone, and the good ones will set realistic expectations about what's available in your price range.
7. Obtain final mortgage approval
As soon as the vendor has accepted your offer on the house, it's time to visit your mortgage lender for final approval. Mortgage lenders will want to assess the property you are purchasing to ensure that the market value aligns with the home purchase price. This may require an appraisal of the home at the home buyer's expense. Upon approval, you will need to sign a mortgage lending agreement, which lays out the conditions of the mortgage you have chosen, including the term and amortization, interest rate, and any prepayment conditions.
8. Choose a lawyer
If you haven't already done so, it's time to hire a lawyer who will handle the real estate transaction. Any local law firm that deals with real estate matters should suffice. The lawyer's office will let you know what your closing costs will be, and you'll need to meet with them before the closing date to finalize the purchase.
9. Purchase fire insurance
Technically speaking, this should be step eight, as you need to have your fire insurance in place before meeting with the lawyer. All mortgage lenders require that you take out fire insurance, also known as home insurance, on the property you are buying. It's the lawyer's responsibility to make sure it's set up before mortgage funding.
10. Move-in day!
Congratulations, you've made it to your possession date and are the official owner of your new home! You'll receive the keys to your house and can start moving in.
Final thoughts on buying a house in Canada
There you have it – how to buy a house, in ten steps. While no two situations are the same, you now have a framework from which to begin planning. It's always a good idea to consult with the many real estate professionals, including mortgage brokers and realtors, before buying your first home. They will explain some of the more complex issues, such as your credit score, mortgage default insurance, land transfer tax, and so on, and they'll instill the confidence that every homebuyer needs in today's real estate market.
This article was written by Tom Drake from MapleMoney and was legally licensed through the Industry Dive publisher network. Please direct all licensing questions to legal@industrydive.com.
---