How the coronavirus pandemic affects your retirement plan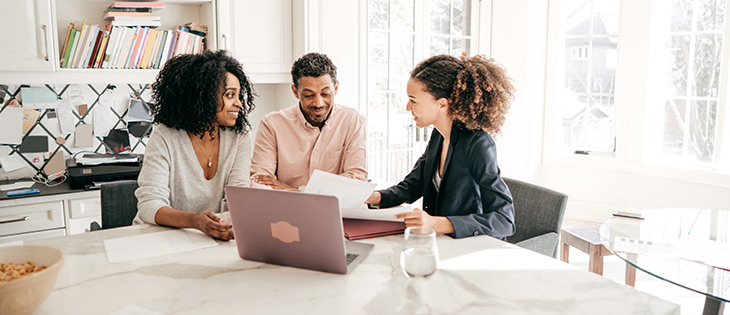 They are words of wisdom every investor has probably heard at least once: invest for the long term and stay the course. For most, it's a tried-and-true method to build retirement savings. But as Canadians witness the historic turmoil that has swept through almost every class of assets in the past six weeks, the advice to stand pat is easier said than done. As former heavyweight boxing champion Mike Tyson famously said about preparing for a fight: "Everyone has a plan until they get punched in the mouth."
And it has been quite a wallop for Canadian investors. The TSX Composite Index plunged 37% from its peak on February 20 to a low on March 23.1 That's one of the biggest, fastest drops in Canadian stock market history. Markets have since regained some ground, but the whiplash has been severe. The Volatility Index (VIX) is a real-time index that represents investors' expectations of 30-day forward-looking volatility. On March 16 it closed at a record high level. It is sometimes called Wall Street's "fear index.
What does all this mean for you and your retirement plan? It's clear Canadians are worried about their finances. A survey released by the Angus Reid Institute found 65% of Canadian adults are worried the coronavirus pandemic could hurt their financial situation.2 This is not to mention concerns people have about their own health and the health of their loved ones.
First thing, try not to panic. Michelle Munro, Director of Tax and Retirement Research at Fidelity Investments, says it can be helpful to review your financial picture. "What I found is that once I went through that, and I really understood where I was sitting, I actually felt a much better sense of relief. So it's better to arm yourself with that information, because that information is powerful."
The next step involves crafting a strategy based on the stage you are in when it comes to your retirement plan.
For those already retired
Even if you are already retired, you can still think of yourself as a long-term investor. According to Statistics Canada, the average life expectancy in this country is 82 years, and the average age of retirement is 63 years. That's a lot of potential years to plan for, and it's quite unlikely you'll need all of your retirement savings in the next few months. Historically, markets have recovered the ground lost during bear markets.
"We also have to think long term. Even if we're just retired, we need to think 30 years into the future, not the next three," says Peter Bowen, Vice President of Tax and Retirement Research at Fidelity Investments.
If you have been working with an advisor to plan your retirement, your portfolio is probably already designed to handle volatile markets. It makes sense to stick to your plan and stay invested. The last thing you want to do is sell low and then try to time the market rebound. Even experienced professionals find it very difficult to predict market bounces.
For those nearing retirement
Now is the time to review the planning you've already done. Check your investments and how they are set up to handle volatility. This means taking another look at your asset allocation. How much of your portfolio is invested in stocks? How much is invested in bonds? How much is in cash, or near equivalents such as long-term government bonds? An advisor can work with you to adjust these percentages and tailor your portfolio to the risk levels you are comfortable with.
If your retirement date isn't set in stone, you could consider working a few more years to shore up your savings. Alternatively, some investors may even see this an opportunity to buy more equities at attractive valuations.
And if you don't already have an advisor, now would be a great time to consider working with one.
You plan to retire in more than ten years
Congratulations. You have one of the most valuable things an investor can have: time. "For the people who have a long time horizon before they retire, that's an advantage, that's a big advantage. That's the advantage of time," says Bowen.
At this stage of your retirement plan it's also a good idea to look at the bigger picture. What are your immediate financial needs, and how do they fit with your long-term goals? In times of uncertainty you want to ensure your financial plan has a balanced approach. Saving for retirement is important, but so is having an emergency fund to cover unplanned expenses or sudden losses of income.
If your employment situation has not been affected by the coronavirus pandemic and you have funds set aside in case it is, then you can feel comfortable making contributions to your retirement savings. Depending on your view of the market recovery, there could be an opportunity to skew your portfolio further toward equities in order to benefit when stocks eventually rise again.
This is exactly where an advisor comes in. He or she can offer the expert advice that helps you make the best decisions for your own risk level. An advisor has the experience and expertise to guide you through periods of market volatility.
Coronavirus turmoil will pass
Finally, it's important to remember these times of market turmoil will eventually pass. For example, Canada's last severe bear market was during the 2008–2009 global financial crisis. The TSX plunged almost 50% from its high in June 2008. It took over five years to finally recover all of those losses.3 But recover it did, before going on to reach new heights.
"With every crisis we've had in the past, there has been a recovery. A long-term view is key, being diversified is key, and financial advisors have a big role to play on this front," says Bowen.
1 Source: Fidelity Investments Canada ULC
2 Source: Angus Reid. "Coronavirus Reckoning: As outbreak hits home, Canadians brace for worse on health, economic fronts" Angus Reid Institute, March 17, 2020, angusreid.org/covid-19-response/
3 Source: Fidelity Investments Canada ULC
---