Tips for financial prosperity in the Year of the Rabbit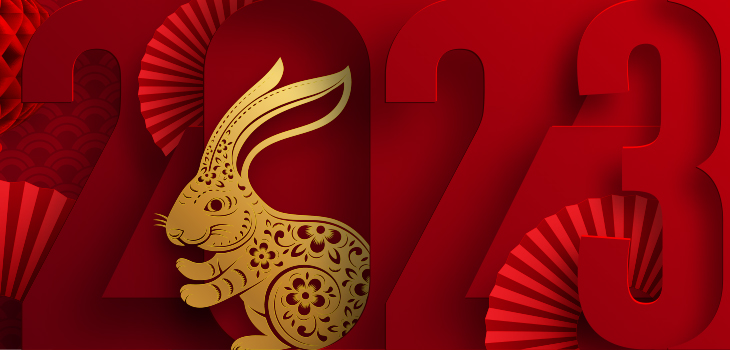 As we enter the Year of the Rabbit, a symbol of peace, prosperity, and optimism in Chinese culture, some hope it will also be a sign of what's to come in 2023. However, if you truly want to set yourself up for success, don't leave your financial future to fate.
Whether or not you celebrate Chinese New Year and get one of those ubiquitous crimson red envelopes this year, there is a lot we can all learn from this tradition. The red envelopes can be traced back to the Qing Dynasty in the 1600s, when, as legend has it, a demon name Sui terrified children while they slept. To ward off the monster, parents would give children eight coins wrapped in red paper to keep them safe.
Today, the gift is meant to wish the recipient good fortune and well-being for the coming year. With inflation weakening purchasing power and rising interest rates squeezing budgets, we may all feel that we can use a little help. If you want to honour the person giving you the gift, treat it like an investment in your future.
Honour the gift.
When you receive an envelope with cash – or any cash gift or bonus for that matter – your instinct, given the current market climate, might be to stuff it into your wallet or cash savings. This year, honour the gift.
Rather than taking those dollars for granted, invest the money in your Tax-Free Savings Account (TFSA) to help you save for a short-term goal, like a down payment on a house. You can also invest in your Registered Retirement Savings Plan (RRSP) to save for retirement. When you're saving, every little bit counts, especially when you're younger. Even if the sum you receive might not be life-changing, using the money to build the habit of investing toward a goal can make a big difference.
Get in the habit.
Getting in the habit of setting aside money each month can be challenging, but there are ways to make it easier on yourself. Making pre-authorized contributions (PAC) to your RRSP can make a big difference in your future. Many find that after a short time, they don't even miss the automatic transfers to their RRSPs. If your friends or family are investing in your good fortune with a gift of cash this Chinese New Year, why not take the time to invest in your own future. You'll be amazed at the potential impact it can have.
Here's a simple illustration. Let's say you received an $88 gift – a common amount in the Chinese tradition. Now, if you were to match that $88 by contributing the same amount every month in your TFSA, earning 5%, you'd have $3,500, including more than $250 in interest, after three years. While that's slightly below the current inflation rate, you could come out ahead when the inflation rate comes back in line with the Bank of Canada's target range of 1% to 3%.
Hop ahead of inflation.
There is never a wrong time to invest in your future, but there are times when it can have a larger impact. Given that Canada's inflation rose to a near 40-year high in June 2022, and the risk it could continue to climb into the Year of the Rabbit, your money may not go as far as it once did.1 Even modest inflation can sting. Over a decade, a simple 3% inflation rate – which is only at the top end of the target range for the Bank of Canada – would reduce your purchasing power by about 25%.
If you were to stuff the money from the red envelope in your pocket and forget about it, it would mean not only that you missed an opportunity by not investing it, but also that your money would lose value. The same can be said about your portfolio, if you decide there is too much uncertainty in the market to be in anything other than cash. That may be a mistake, as you'll miss out on the potential for market growth, which you'll need if you want your savings to keep up with inflation or possibly come out ahead.
If the markets make you anxious, consider a diversified portfolio of stocks and bonds, so you can better deal with the ups and downs and still potentially keep up with inflation. Historically, these portfolios may have the potential to grow in periods of high inflation.
At the same time, try to find ways to lessen the impact of inflation on your everyday spending. The more you buy of items that have seen prices surge, the more exposed you'll be to inflation. Take your grocery bill as an example. While fresh or frozen beef prices have risen 17% since February 2022 compared with the same period a year earlier, the cost of chicken rose by only 10% over the same period.2 Cutting back on beef for another protein could help you save.
The New Year is seen as a natural time for renewal, and a time to set yourself up for success in the year ahead. If you receive a red envelope this year, use it as a motivation to begin an achievable plan that will make a real difference in your future. Even if the gift is small, what you do with that money can make a difference. Every little bit counts, especially when battling inflation. With the right steps, you can make the Year of the Rabbit your lucky year. To make the most of your hard-earned savings and gifts, remember to talk to a financial advisor before making critical financial decisions.
---