What is the minimum credit score required for a mortgage in Canada?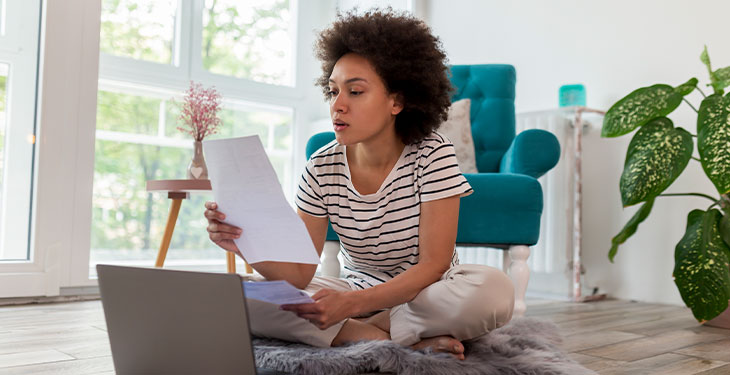 Author: Tom Drake
Source: MapleMoney
There are many things you need to have in place before getting a mortgage in Canada. One of the most important is to have a good credit score. But what constitutes a good credit score? After all, there are many different mortgage lenders out there, and each one has its lending criteria that they follow. This article will let you know what credit score you'll need to qualify and what else you need to consider before starting your mortgage application.
Minimum credit score needed for an insured mortgage
On July 1, 2020, Canada Mortgage and Housing Corporation (CMHC) increased the minimum credit score requirement on insured mortgages from 600 to 680. This represented a significant jump, and the response from industry experts was mixed. Many felt that the new benchmark was too restrictive and would result in too many Canadians not entering the housing market.
CMHC's minimum score applies to at least one borrower on a mortgage. This makes the situation a bit more flexible for couples, as only one borrower needs to exceed the 680 threshold.
What is an insured mortgage anyway?
You may be wondering what an insured mortgage is in the first place. Often referred to as a CMHC mortgage, it applies to any mortgage where the borrower contributes a downpayment of less than 20%, down to the minimum downpayment of 5% of a home's purchase price.
The 'insurance' refers to mortgage default insurance, which protects the lender against default should the mortgagor fail to pay the mortgage as agreed. CMHC is the leading provider of mortgage default insurance in Canada, alongside two other providers: Genworth Financial and Canada Guaranty. For more information, check out our guide to mortgage default insurance.
Minimum credit score required for a conventional mortgage
A conventional mortgage is one with a downpayment of 20% or more. Conventional mortgages do not require CMHC insurance, so there are fewer restrictions on things like a minimum credit score requirement. Each lender will have guidelines that they follow.
So, it is possible to get approved for a mortgage with a credit score as low as 600, but the number of mortgage lenders willing to approve your mortgage is going to be very small.
What is a good credit score in Canada?
You may be wondering what's considered a good credit score. In Canada, credit scores range between 300 and 900, although you'll find very few people on the extreme ends of the spectrum. Most Canadian's credit scores would fall between 600 and 800.
Credit scores are set in ranges. Here's a breakdown of each level, so you can see how they are categorized.
A score of 800 or above is considered excellent.
A score between 720 and 799 is considered very good.
Between 650 and 719, you are considered to have a good credit score.
600 to 649 is considered fair.
Anything under 600 is deemed to be a poor credit score.
How to check your credit score
It's a good idea to check your credit score and get a copy of your credit report long before you apply for a mortgage. There are a few ways you can get this information for free. One way is to order a copy of your credit report directly from the credit bureau. I'll explain how you can do this, but I'll also let you know why I don't recommend this option.
There are two main credit bureaus in Canada, Equifax, and TransUnion. Both companies are required to offer a free credit report to anyone who wants one, once per year. And they do, but they don't make it very easy.
You'll notice that they push a paid version on their respective websites, which offers regular credit reporting for around $20/month. However, getting a free credit report with Equifax requires that you print and fill out a form that you download from their website before mailing or faxing it to the credit bureau, along with photocopies of your identification.
With TransUnion, you can access your free report online, but only once per year. Thankfully, there is a better way, which is also free.
Improve your credit score with Borrowell and Credit Karma
Instead of going directly through the credit bureau, you can open an account with Borrowell or Credit Karma. Both companies will email your credit score and credit report to you for free every week. It's free to sign up, and you can access your credit report within minutes of becoming a member. In my opinion, this is the easiest and cheapest way to stay on top of your credit. Borrowell will send you a copy of your Equifax Canada credit report while Credit Karma has partnered with TransUnion.
These companies make money through affiliate partnerships with various loan and credit card companies. You will receive credit offers based on your credit score. You are under no obligation to apply, and I would exercise extreme caution before doing so. Instead, take advantage of the free credit reporting, as well as the educational resources both companies offer to help you improve your credit score.
Ways to improve your credit before applying for a mortgage
Whether you have good credit or bad credit, it's a good idea to improve your credit score before applying for a mortgage. A good credit score will not only help you get approved for a mortgage, but it will help you get the lowest mortgage rates too! Here are some steps you can take to make sure your credit is in good shape when you're ready to buy a house.
1. Avoid making too many credit inquiries
Anytime you apply for credit, the lender's inquiry shows on your credit report. Each inquiry lowers your credit score a little bit. Too many inquiries within a short period isn't a good thing. It lowers your score and gives lenders the indication that you are actively seeking credit. Of course, there are times when it makes perfect sense to apply for credit, for example, if you're getting a car loan. However, you should always try to avoid making excessive credit inquiries, especially if you're trying to increase your credit score.
2. Keep your credit utilization below 30%
If you have revolving credit (credit card or line of credit), the best advice is to pay the balance in full each month to avoid paying interest. This is especially true for high-interest credit cards. If you need to maintain a balance, try to keep it below 30% of the overall limit. For example, if you have a credit card with a $6000 limit, try to keep the balance below $2000. When your credit utilization increases above 30%, it will impact your credit score negatively.
3. Pay off any unpaid collection items
Suppose you avoid making a payment on a credit card or loan for more than 90 days. In that case, you run the risk of your lender involving a 3rd party collection agency, who will then attempt to collect the amount owing on behalf of the credit issuer.
No lender will approve you for credit with an unpaid collection item displaying on your bureau. If you do, this should be your top priority when it comes to restoring your credit. Too many people have their credit ruined because they didn't pay a small balance owing.
4. You need to have credit history to be approved for a mortgage
Having no credit at all can be as detrimental as having bad credit. You won't be approved for a mortgage without having established some credit on your report. The longer your credit history goes back, the better, but you should have at least a couple of credit products, like a credit card or small car loan, showing on your credit report for at least a couple of years. If you don't, your mortgage lender may require that you get a cosigner or ask that you wait longer before applying.
Other things to consider before getting a mortgage
When you're trying to get a mortgage, a good credit score isn't the only factor. Far from it, in fact. Mortgage lenders will need to confirm your income and employment history, as well as down payment and closing costs. Let's take a closer look at each one.
Your income is important
Having a good credit score alone is not enough to qualify for a mortgage. You must be able to demonstrate stable employment and an income that's high enough to service the mortgage payments.
To determine whether your income is high enough, lenders use something called debt servicing ratios, both Gross Debt Servicing (GDS) and Total Debt Servicing (TDS). These ratios give the lender an indication of whether you can afford to pay the mortgage each month. It's not a perfect measure because it doesn't account for your discretionary spending habits, but it factors in most of your financial obligations.
GDS calculates your monthly housing costs (Mortgage Principal and Interest plus utilities and property taxes) against your gross monthly income. Ideally, this ratio will be less than 32%. TDS takes into account all other debt payments along with the mortgage as a percentage of your gross monthly income. The maximum TDS is 42%, but the lower, the better.
Job stability
Even if you earn a high income, you may not qualify for a mortgage if your employment history is too recent. Most lenders won't accept your income if you're still in your probationary period at work. If you're self-employed or have fluctuating income, you'll likely need to show 2 years of income history before you can be approved. For this reason, I don't recommend jumping ship to a new employer until after getting a mortgage. If you don't have a choice, or the opportunity is too good to pass up, expect to wait for some time before applying.
Down payment and closing costs
It should come as no surprise that to buy a home, you need to have enough funds available to cover the down payment and closing costs (lawyer fees, appraisal, home inspection, title insurance, etc.) However, you can't just get these funds from any old source. Your lender will need to confirm that the down payment isn't from borrowed funds and that you've had the money in your possession for at least 30 days.
Exceptions can be made, but don't plan to use the income tax refund you expect to arrive in a couple of weeks to qualify for a mortgage you're applying for tomorrow. Here is a list of acceptable sources of down payment.
Acceptable down payment sources
Your own accumulated savings
RRSPs (best for a first-time home buyer)
Other investments (TFSA, non-registered)
Equity from the sale of another property
Gift from a parent or close relative (gift letter will be required)
Inheritance, employer bonus (you must have funds for more than 30 days)
Final thoughts on the minimum credit score for a mortgage
When applying for a mortgage, having a good credit score is important. Ideally, you want to make sure your credit score is over 680. If it isn't, it doesn't mean that you won't qualify, but you might not be able to access the top lenders and the lowest mortgage rates. Here's the good news: if your credit score isn't where you want it to be, there are things you can do to improve your score.
This article was written by Tom Drake from MapleMoney and was legally licensed through the Industry Dive publisher network. Please direct all licensing questions to legal@industrydive.com.
---